CURRENT INDUSTRY ISSUES
AIRDROPS & BOUNTY
Airdrop & Bounty programs are a great way to build a genuine community and reward participants, however currently access to them is limited and participation can be confusing and time consuming.
•

Time consuming to search and find

•

Complex steps & many required tasks

•

Limited to blockchain based projects

•

Transaction fees to transfer Airdrops
ICOS
First time ICO parrticipants may find the process of investing in a token project too difficult. ICOs requires an individual to thoroughly research on the project and learn how to correctly transfer funds.
•

Difficult to understand

•

Evaluate projects for scams

•

Constantly monitor for updates

•

High barrier of entry for newcomers
MARKETPLACES
The popularity of online shopping grows every year, however marketplaces are often constricted by location and expanding globally can be difficult.
•

Often limited to one country or region

•

Buyers are subject to regional currency rates

•

Low number of marketplaces with cryptocurrency payment options

•

Marketing reach is limited by location
AIR WALLET SOLUTIONS
By being a fully ERC-20 compliant wallet, users can manage cryptocurrencies, receive airdrops and bounties through various channels from token projects and traditional companies and explore a cryptocurrency payment enabled marketplace, all within one platform.
DESIGN
A comfortable UI/UX designed with the user in mind.
ASSETS
Secure management of all your digital assets and Airdrops.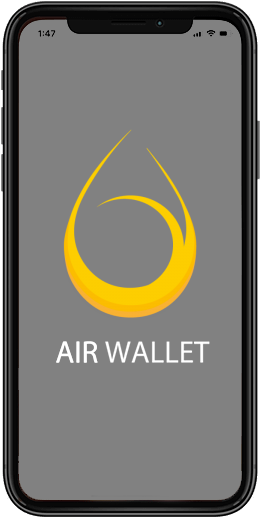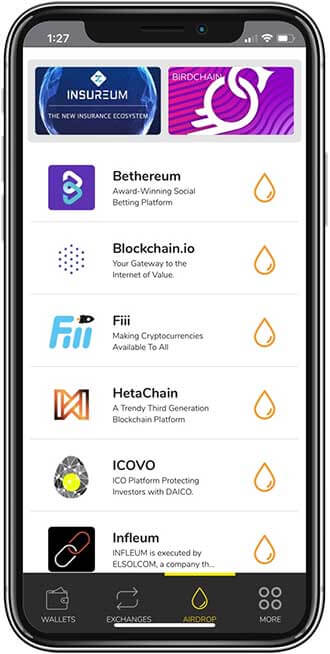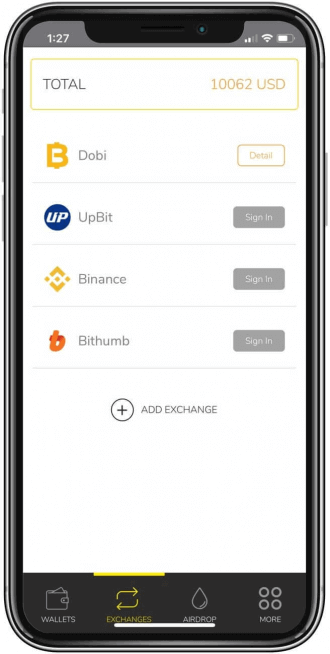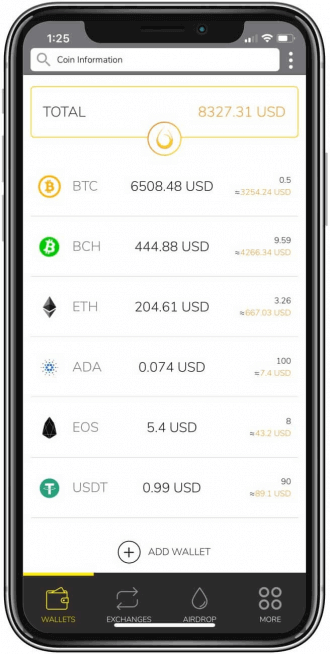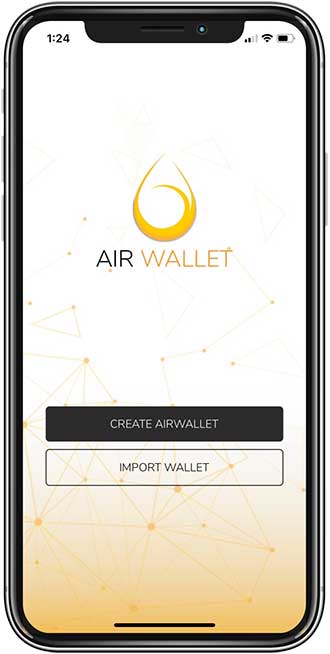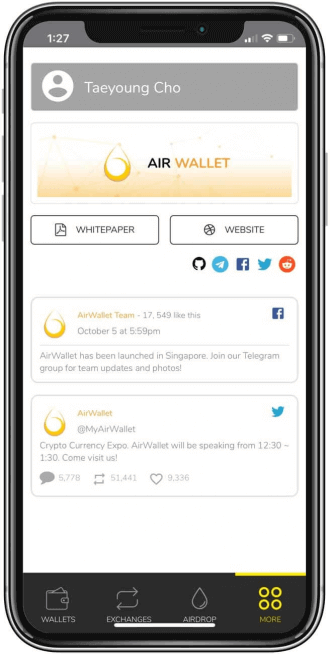 SYSTEM
Thoroughly tested by veteran developers to bring a flawless experience.
EXPLORE
Browse the marketplace to connect with blockchain projects and traditional companies in a whole new way.
Airdrop & Bounty Expansion
Tap into influencer marketing and reward participants for sharing information about your company or products via the tried and true system of Airdrops and Bounty programs, once limited to cryptocurrencies.
AIR WALLET'S revolutionary Airdrop & Bounty expansion will allow non blockchain based companies, without their own cryptographic tokens, to apply the same effective social media marketing techniques, that are currently only available to companies within the blockchain industry.
---
FOR PROJECTS
AIR WALLET offers a variety of services to projects who wish to list on our platform.
•

Project Showcase

•

Create Token Holders

•

Exchange Listing Assistance

•

Global PR & Marketing

•

Community Growth & Managemet

•

Technical Evaluation
FOR USERS
A one-stop solution to manage your cryptocurrencies and Airdrop all within a single platform.
•

Manage and View All Airdrops

•

Simplified Tasks

•

Automated Community Joining

•

Airdrops Automatically Distributed

•

Expand opportunities to receive tokens through bounties

•

Follow Projects and Receive Updates
10
%
Partnerships / Advisors
✓ Conception of Idea
✓ Team Building
✓ Early Stage Investment
✓ Website Launch
✓ Whitepaper Ver. 1.0
✓ Product Development
✓ Asia Roadshow
✓ App. Demo Launch
✓ Strategic Partnership
✓ Smart Contract Testing
✓ Digital Wallet Test
✓ AIR Wallet Test
✓ Token Creation
• Private Investment
• Exchange Integration Dev.
• Exchange Integration Test
• SNS Mktg. Feature Dev.
• Strategic Mktg. P'ships.
• MVP Launch
• Marketplace Dev.
• Strategic E-com. P'ships.
• Token Payment
• Marketplace Test
• Offline Payment Integration
• dApp Store Integration
• International Dev.
• Mainet Development
• ATM Integration
• Offline Payment